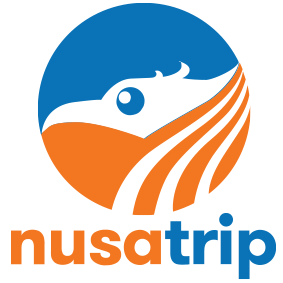 Nusatrip is an online travel portal. We provide information, prices, availability, booking services for domestic and international air travel and hotels. Our network has over 500 airlines, including Indonesian domestic airlines, and 200,000 hotels in Indonesia and all around the world.
Nusatrip is a one-stop shop for all travel related services. Our mission is to take the hassle out of planning a trip and providing business and leisure travellers an easy solution to book their hotels and flights at the best price. The portal is designed with a simple interface that users can easily use and book their trips. We are constantly working hard to offer travel solutions for travellers who want to travel within and beyond Indonesia.
With Nusatrip, booking your next trip is going to be a breeze and a mere click away !
1st online travel agent in Indonesia to offer Flights & Hotels, Domestic and International
Nusatrip is the first online travel agent in Indonesia to offers a large selection of global and domestic airlines as well as a large variety of accommodations.
Time-saving and easy to use Search Engine: Combining advanced technology with up-to-date travel expertise, Nusatrip's portal will allow users to compare thousands of airline fares and only offer the best deals.
Best rates for domestic and international flights departing from Indonesia: 500 airlines with only the best fares.
200,000 hotels in more than 10,000 destinations: Nusatrip's network of hotels offers users with big discounts prices.
All major Indonesian domestic and international airlines in one screen
Users can compare flight ticket prices from an easy simple-to-use interface
Users are given the freedom to plan their own itinerary. They can choose different airlines to suit their personal needs. The list can be easily arranged in order of departure time, arrival time, duration of flight, price and name of airline
In this dynamic and fast paced airline business, the South East Asian airline business is always growing and changing. It is hard to keep track on airlines and their various routes,. Nusatrip removes the need for travels to worry about that. Our system is always updated so that users are always aware of what are the various options they have to fly.
Pay for any hotel rooms or flight ticket bookings with popular Indonesian payment solution
Payment is easier and simpler as Nusatrip accepts all popular payment methods. These include Online Banking (BCA KlikPay and Mandiri ClickPay), and even through ATM Transfer (ATM Bersama & ATM PRIMA network which connects over 80 banks in Indonesia) and Credit Card (with extra security with Verified by Visa and Mastercard Securecode). So, even if you happen to be in a small village, there is always a way to pay.
Thanks to a fast payment settlement system, ATM payments are verified in just a few minutes. We do this because we know nobody likes to wait.
All transaction data are protected by a High-grade encryption
Simple & Fast booking flow, 24x7 & Real Time & Live
It just takes a few steps to book a flight or a hotel at the best price.
For the first time in Indonesia, International air travel is available at anytime , anywhere.